Halie Lynn Guelfi
22 years old
Date of birth: Oct 23, 1992
Place of birth:
Kentucky, United States
Date of passing: Dec 7, 2014
Place of passing:
Gainesville, Florida, United States
| | | |
| --- | --- | --- |
| | Gone yet not forgotten, although we are apart, your spirit lives within me, forever in my heart. | |
Halie Lynn Guelfi

October 23, 1992-December 7, 2014

Our beloved fallen Golden Eagle Halie passed peacefully on Sunday December 7.

Memorial services will be held at New Hope Ministries 7675 Davis Blvd in Naples on Saturday December 20 at 2:30pm there will be a service at 3:30 , friends and classmates of Halie and all others are invited to join us following the service for sunset at the pier to celebrate the life of Halie.

Halie's brother Joseph and all of Halie's closes friends ask that you help with this celebration of life. We will watch the sunset at the pier (one of Halie's favorite things to do), the sunset will be at about 5;40 pm ,we will then allow for the" sunset crowd" to exit, after the mass exit, we ask for help as we offer yellow daisy's over the pier railings. Then at 6pm, weather and winds permitting, we are going to release a beautiful shooting star sky lantern, a sight you're really want to see!

In lieu of flowers donations can be made to the "Halie Guelfi Memorial Scholarship fund" with checks made payable to The Community Foundation of Collier County, 2400 Tamiami Trail North, Suite 300, and Naples, Florida. 34103 @ cfcollier.org
Halie Lynn Guelfi
October 23, 1992-December 7, 2014
On the evening of Friday December 5, Halie was a passenger on a motorcycle that was involved in an accident in Gainesville, Florida. She passed peacefully on Sunday December 7 at Shands Hospital in Gainesville.

Halie was born in Burlington, Kentucky, the first child of two children born to Ron & Sharon Guelfi. Halie was proud of the fact that she made the choice to have "ORGAN DONOR" on her driver's license. Life did not end at death for Halie. She lives on!
Halie graduated from Naples High School in 2011 magna cum laude and went on to The University of Florida in Gainesville Florida were she was an Ambassador for The College of Liberal Arts and Sciences, worked as a research assistant in the Department of Rheumatology, she was a Gator Pre-Medical Section Editor, member of the University of Florida Honors College, volunteer at the Gators For Haven Hospice. She was set to graduate this spring with two BA degrees in Biology and Phycology and go on to medical school in the fall of 2015.
She is proceeded in death by her mother Sharon (Couch) Guelfi of Burlington, Kentucky and her Grandparents Robert Guelfi of Naples, Florida and Raleigh Couch of Burlington, Kentucky.
She is survived by her father Ron Guelfi and brother Joseph Guelfi of Naples, grandparents Fran Guelfi of Naples and Bertha (Mamaw) Couch of Burlington, aunts and uncles Rob & Julie Guelfi, Rick & Kim Guelfi, Robin (Guelfi) Ewell, Russell Guelfi, all of Naples and Jim & Lisa Couch, Larry & Cindy Couch, Reilgh Couch Jr., Dan & Dawn (Couch) Delaney all of Burlington and many, many cousins in both Naples and Burlington.
A memorial service will be held in Naples, Florida on Saturday afternoon December 20, family, friends and classmates are invited to join us following the service for sunset at the beach to celebrate the life of Halie.

The family asks that people monitor Halie's Memorial Page @http://www.forevermissed.com/halie-lynn-guelfi or facebook "Halie Guelfi'" for the full details, times and locations to be posted Tuesday December 16th.
In lieu of flowers donations can be made to the "Halie Guelfi Memorial Scholarship fund" with checks made payable to The Community Foundation of Collier County, 2400 Tamiami Trail North, Suite 300, Naples, Florida. 34103 @ cfcollier.org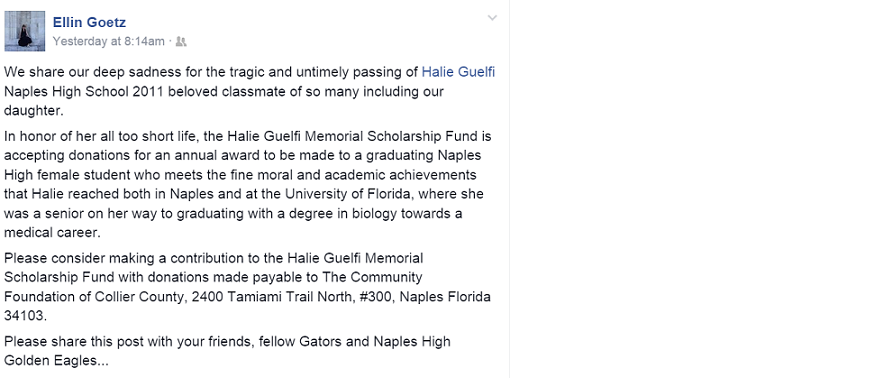 "Halie arrainged to learn about Radiology before going to Med School.

She was enthusiastic and vivacious.

I was shocked to hear of her death, which occurred near my Gainesville house."
"Hey Sis, I wish I could talk to you again and feel my words truly reach you I miss you more than anything I've every cherished. I've learned so much as time has past like how to not take the simplest things for granted, how to give myself a break, how to find a reason to smile, and how to love myself. It really saddens me how much people forgot these lessons I've learned, but then again many people didn't have to learn those lessons as quickly as I've had to. You are my hero and always will be. I wish fate didn't have to take you away from me, but everything does happen for a reason. Don't worry about me I'll still try to be your tough little brother even though you were the greatest chapter of my life. I will make you and mom proud of me one way or another. Lastly I want to thank you for the best memories of my life that I still cannot help myself to remember to this day. Halie your are the BEST BIG SISTER and I love you always. P.S GO GATORS"
"I can't believe I'm just now learning of Halie's transition to spirit. I'm deeply saddened to learn of her passing. She was a peer I looked up to academically, and I'll never forgot her voice. Just an amazing, unique girl. Your very missed Halie."
"Dear Halie,
Happy Birthday Beautiful! You are so missed! You blessed so many lives with your smile, kind heart and humor. We think of you in heaven smiling and happy looking forward to seeing us when we get there! Happy 1st birthday in heaven! We love you!!"
"Happy 1st birthday in heaven Halie. I think of you often! The beauty of accepting the adoption of Christ is that death is not the end! Praise God. I know our hearts are still healing here on earth, but I am happy to know that I will see you again. Until then sweet girl!"
"Rest in peace darling xxxx"
"Last year Halie wrote me a letter desiring to learn about the Medical field of Diagnostic Radiology. She very politely introduced herself as a "pre-med" student @ Florida, where I had been both a Med Student, and Faculty member.

I had the opportunity to work with her one day last year to show her X-Rays and Imaging studies, and to discuss her dreams of becoming a physician. Halie was enthusiastic and a very good student. She demonstrated all of the skills and compassion that would have made her a fantastic doctor. I am so deeply saddened by this tragedy.

E William Akins, MD

Gator Med School Class of 1983"
"God Bless this beautiful angel....."
"Beautiful,smart and kind to all. We will all love you forever."
"One of the first things that comes to mind when I think about Halie is just how beautiful she was, inside and out. I remember us talking about how glad we were that we had become great friends towards the end of high school, even if it was kind of late. I loved that she could be so spirited and kind at the same time. I loved her contagious smile and laugh. I loved that she called me "Harry." She was really endearing and vibrant. It had been a while since we last spoke, but I love and miss her so much."
"Being the CHFM HR Manager, I had the pleasure of interviewing and hiring Halie. We worked together for two years. I'd like to share a story of a resent interaction that really demonstrated her kind, sweet, supportive nature. I had my wedding rings stolen, and Halie was the first person I told, she quickly offered support, and followed up with an extremely nice supportive email, that included a quote from Louise Giglio which read "God's plans for your life far exceed the circumstances of your day." Talking to Halie everyday was part of my route. I am missing her so much! My heart is broken for her family. I will continue to pray for all of them. See you in heaven Halie. <3"
"Halie was a student in my BSC 3911 class at UF and I would place her in the top 1% of students! She would have been an excellent physician. She is greatly missed. My thoughts and prayers to family and friends."
Invite your family and friends
to visit this memorial:
Subscribe to receive e-mail notifications when others contribute to this memorial.
Have a suggestion for us?